Meanwhile in Melbourne, the world's second most liveable city, debate continues to rage around the redevelopment of one of its landmark tourist attractions, the iconic Queen Victoria Market, or the Vic Market, as us locals call it.
Plans for the $250 million renewal have been developed, distributed and subsequently destroyed by committee after committee, year after year. Seemingly everyone has had their say, from Lord Mayors, Premiers, shock jocks, to even former Prime Minister and Sydney-siders like Paul Keating.
In fact over 7,500 people have had their say.
Not wanting to miss out, I would like to humbly submit a minor alteration to the project.
Get rid of this inaccurate monstrosity that pays homage to a mass murderer, thief and con artist.
Thanks in advance…
…actually I should probably explain myself a bit further.
I'm not interested in Batman, where he was born, or where and when he died. I'm interested in two words, "THEN UNOCCUPIED".
The few of us who know more than we were taught at school, know the area now known as Melbourne was inhabited by the traditional custodians, the Wurundjeri people of the Kulin Nations.
Some would say that destroying monuments like this is, and I quote, "political correctness gone mad."
Well OK then, call me mad!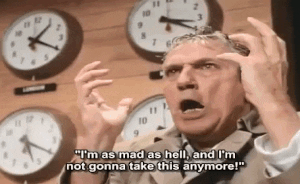 The Vic Market attracts over ten million visitors each year. Many an international tourist would read the etched gold graffiti in bluestone, thinking there were no Aboriginal people in Victoria. They may well think that Aboriginal people lived only in the outback, chilling and killing time before being asked to participate in opening ceremonies of one sort or another.
"Then unoccupied". You wonder why so many Australians are ignorant of true history. #indigenousx pic.twitter.com/TptG2cR65r

— Daniel James (@MrDTJames) August 10, 2018
Locals and Australian tourists would have the same historical lie perpetuated again and again, while they leisurely buy their lemons and porterhouse.
Maybe I'm being a be too critical, there is a small plaque subsequently glued to the memorial by the City of Melbourne that you can't see let alone read unless you clamor over the monument itself, which attempts to set the record straight.
It reads, "the City of Melbourne acknowledges that the historical events and perceptions referred to by this memorial are inaccurate. An apology is made to Indigenous people and to the traditional owners of the land for the wrong beliefs of the past and the personal upset caused."
You know what, that's actually worse than not amending it at all. It once again inserts Aboriginal history as nothing more than a footnote, an obscure reference that no one will read or look up. It is symptomatic of Australia's approach to true history.
The debate about history still remains at the heart of national identity. Monuments continue to be erected, lauding Captain Cook as the discoverer of Australia, our flag reminds us that we are all subjects of a foreign sovereign, while forgetting our sovereignty was never ceded.
You can't really expect too much in terms of cultural sensitivity or the respect for history once you learn that there are approximately 9000 people buried underneath the carpark of the market.
Two men still believed to be buried there at the Queen Street end of Shed F, were the first to be hanged in the District of Port Phillip in 1842.
Who were these men?
They were Tunnerminnerwait and Maulboyheenner, Palowa man from Van Deimen's Land. Their crime was the murder of two whale-hunters in Portland. Why the two men had themselves made the voyage from their traditional lands to that of the Gunditjamara people is unclear, but what is known is that the men along with Protector of Aborigines, George Augustus Robinson had inspected the site of the Convincing Ground massacre, in which 60 to 200 members of the Gunditjamara were slaughtered in Portland Bay by whalers.
None would hang for that crime.
The over representation of Aboriginal people in the justice system started early in the District of Port Phillip.
A trend that continues unabated.
Tunnerminnerwait and Maulboyheenner bodies may lay meters away from the Batman monument, just a meter or so below the surface. They were buried in unconsecrated ground after their botched executions that took place in public to deter many of the onlooking Aboriginal people from committing similar crimes against their white oppressors.
Think about that next time you pick up a fluffy Koala teddy or a garishly decorated authentic boomerang made in Indonesia.
But back to Batman, the record needs to be corrected.
A retrospective footnote, either demolish the monument dedicated to this self-admitted murderer of Aboriginal men, women and children or simply attach some neon signage to the top of his memorial.
It should read, "ALWAYS WAS, ALWAYS WILL BE ABORIGINAL LAND".
Either way, the lies need to stop, the truth needs to be told, our fallen need to be respected.
There's no time like the present.
Your support will ensure IndigenousX is able to stay independent and keep making original content.
Donate Now